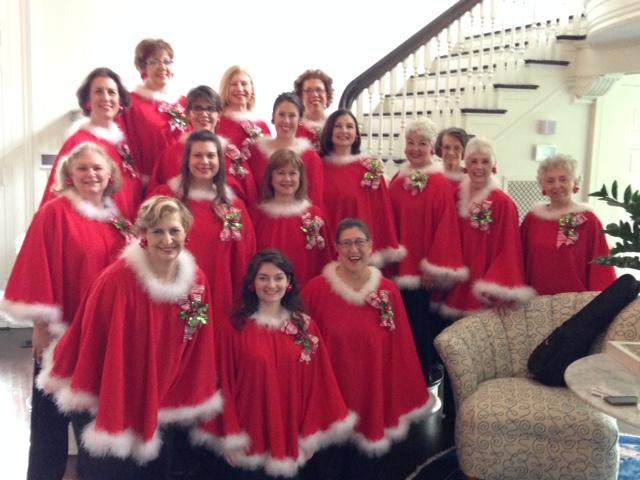 December 11, 2017
Dear Musician Volunteers:
Thank you so very much! The Holiday Home Tour was a great success and there is absolutely no way it could happen without you and your music! We have a unique tour featuring architecture, local artisans in our Boutique and LOCAL MUSIC!!! The perfect way to show off New Orleans and get into the holiday spirit.
Your performances are amazing and the way you all help with the scheduling and being in the right place at the right time – even if sometimes that means being super flexible – is so important to the PRC!!!
We thank you so very much and hope you will plan to volunteer again next year. On all accounts the music makes the event!
Have a lovely holiday season,
Lesley Kane, Angela D'Gerolamo, music committee chairs, and all of us here at the PRC!!!
Anna Burge Ellis
Development Coordinator
Preservation Resource Center of New Orleans
923 Tchoupitoulas Street
New Orleans, LA 70130
---
November 1, 2017
Comments from Greg!
Damn u gals are Good!!
Congratulations!
Very impressive!
Your music brings a lot of joy to peoples lives very good stuff...congratulations!
New Orleans, LA 70130
---
October 23, 2017
Gosh, Beth, what an unexpected treat last night. It was great fun and I don't know how you arranged such a beautiful evening after a really questionable day.
Brenda and I enjoyed ourselves to no end. The perfect ending to the evening was the harmonizing of your group, not inflicting anything that demanded attention but putting it out there for all to enjoy. And enjoy we did.
Thank you,
Tim and Brenda
Tim McNally
Host, The Dine, Wine and Spirits Show
WGSO 990AM
Weekdays, 3 p.m. - 5 p.m.
streamed on TuneIn Radio app
New Orleans
504-452-7486
Columnist and Feature Writer
Wine and Spirits Editor
New Orleans Magazine
myneworleans.com
New Orleans, LA 70130
---
December, 2016
Dear Musician Volunteers:
This message is a small attempt to express our gratitude for your performance this weekend.
I was stuck at Tour Headquarters most of the time, but I did get to hear from all of the people that came to the Tour mainly to hear music! We had lots of folks come by the Music table and ask for a schedule. We also had many people come to shop in the Boutique and stop to rave about your talent.
It is a fabulous gift you give to the community, not only for the weekend --the Tour proceeds go to help renovate historic homes for low-income home owners. Music, architecture and a strong sense of community and celebration are what New Orleans means to me. We all appreciate your donation of time and talent!!!
Thank you, thank you for your continued support of the PRC!!!
Anna Burge Ellis
Development Coordinator
Preservation Resource Center of New Orleans
923 Tchoupitoulas Street, New Orleans, LA 70130
504.636.3384 direct | 504.754.7668 fax | prcno.org
New Orleans, LA 70130
---
December, 2013
The patrons of Tujague's were pleasantly surprised this evening by the beautiful voices of Crescent City Sound Chorus (THANKS)!
Vernon Dip Dutton
New Orleans, LA 70130
---
December, 2011
Thank you for another wonderful performance; your beautiful voices and captivating energy adds such an enhancement to our Holiday Lunch.
Thank you again and Happy New Year!!!
Tara W. Knowles
New Orleans Rotary Club
New Orleans, LA 70130
New Orleans, LA 70130
---
December, 2016
Good afternoon:
Just wanted you all to know about the rumored record year in ticket sales! The Annual Holiday Home Tour has become as much a music festival as it is a celebration of New Orleans architecture. We absolutely could not do it without you!
Thank you so very much on behalf of the PRC and our wonderful music committee, Michelle Cox and Mollie Williamson, Chairs
Have a fabulous Holiday Season!
Anna
New Orleans, LA 70130
---
I can't thank you enough for the for the wonderful performance the members of the Crescent City Sound Chorus prepared for our Volunteer Holiday Luncheon. There's a "buzz" this afternoon in the halls, where everyone is still talking about how great you were and how much they enjoyed the entertainment.
It was truly wonderful and your selection of songs about New Orleans, our musical and cultural and (culinary, too) heritage was just perfect-- especially since Touro, founded in 1852, is such a part of New Orleans history, too!!
Break a let at your upcoming holiday concerts and please give my best and heartfelt thanks to everyone in the group! Our volunteers felt very appreciated today-- and we appreciate you
volunteering your time too.
Denise Chetta
Director, Volunteer Services
Touro Infirmiry
New Orleans, LA
New Orleans, LA 70130
---
First, forgive me for taking so long to let you know how very much our ladies enjoyed your program last Friday. I don't think anyone has every gotten a standing ovation before---and we have had some pretty good programs. Since the luncheon I have run into several members who told me it was the best Christmas singing they had ever heard. Keep up the good work!
Lorraine Peterson
Northlake Newcomers
Beau Chene Country Club
New Orleans, LA 70130
---
I just want to thank y'all for your show for us on Thursday evening. All the rest of the weekend I had so many people thanking me for suggesting getting you all. I did not hear one negative comment. Everyone loved your enthusiasm and joy in performing. And many commented on the fact that you seemed so happy to be there performing for us!
They loved the music,the way it was delivered and the way you interacted with the audience. I even heard comments of the best entertainment we'd ever had!
Thank you for making the extra effort to be there and so ready to perform. I loved it too. I had several people ask me if you were good in the Sweet Adeline world since they had no idea. And I had to tell them...Yes, they were great!!
If any of you ever come to Columbia, SC, please come and visit our rehearsal on Thursday evening. We would be so glad to have you.
Thanks again. Keep singing,
PennyBurke
New Orleans, LA 70130
---
After I left the reunion in New Orleans, I flew back to California, and 12 hours later flew to France for two weeks of liberation ceremonies and visits with friends. I have been back two days and resting up after two long flights back to Calif. I am writing thank you letters to all who helped with reunion which turned out great thanks to many, but especially to your great lady singers. Everyone loved your concert, your colorful dresses, your smiles, your enthusiasm, your friendship, and that special song, down the Mississippi with Andy Jackson. You all sang it great and should keep in your repertoire.
Please express our appreciation to all for a great treat for us.
With warmest regards,
John
The Society of the Third Infantry Division