Crescent City Sound Chorus is proud to have the following quartets associated with our chorus. We endorse all of them as excellent singers and entertainers, suitable for any occasion...
---
Changed 4 Good
Changed 4 Good quartet combined voices as a registered quartet in 2015. We have competed in 3 regional competitions winning the audience choice award and we are currently the region's 5th place medalists. Our members include Angela Villemarette-lead, Sue Englebert-bass, Tina Kneisler-baritone, and Patty Nance-tenor. All singers are seasoned members of the Crescent City Sound Chorus in New Orleans, Louisiana and Tina is a dual member with Top of the Rock Chorus in Little Rock, AR. Although our backgrounds vary from music to medical science to engineering and finance, music brings us together in the love of harmony and song. Changed 4 Good enjoys teaching a cappella harmony to students of all ages. We have taught classes through the Girl Scouts of America and also at the University of New Orleans and Loyola. Sharing our music is what we are all about!
---
Fleur de Lis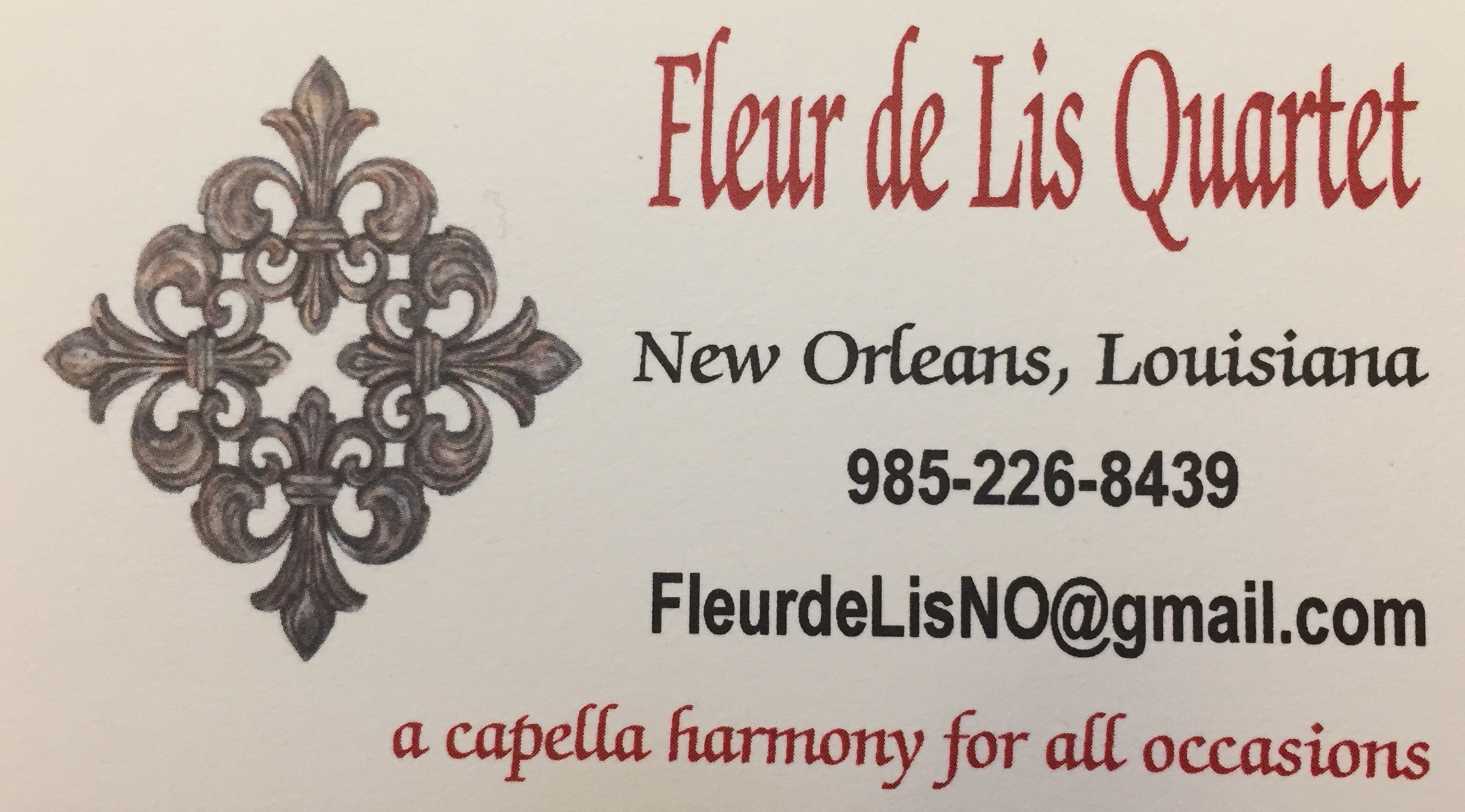 Jeannine Thibodeaux, Lead - is CCSC's associate director and choreographer. She has been a member of Sweet Adelines since 1983. She runs the rehearsals while Skyping with director Mary Beth. She was elected to Sweet Adelines Region 10's "Wall of Fame" in 2008.

Sheryl York, Bass - been a member of Sweet Adelines since 2000. Sheryl has been Show Chairperson, on Marketing Committee, designs flyers and programs, and tickets for the annual show. She was chosen by CCSC's members to Sweet Adeline Region 10 "Wall of Fame" in 2012.

Susan Domangue, Bari - has been a member of CCSC since 2007. She has been Events Coordinator, serves on the choreography team, show director and recipient of the 2019 Region 10 Wall Of Fame.

Beverly Traub, Tenor - on the Music Team, Tenor section leader, Marketing, Ways and Means committee, Sets and Props designer for shows, Assistant Costume Designer, has served on the Chorus Board . CCSC voted Beverly to Sweet Adeline's Region 10 Wall of Fame in 2014.
Area of operation:
New Orleans, LA
State:
LA
---
Toulouse
Anne Cafiero, Tenor — was involved in music throughout her high school career. She played percussion in the school orchestra. She was a member of the hand bell choir, vocal choir, and played guitar and piano. Anne had been looking for a chorus and was introduced to us by a CCSC member, Sheryl York. She and her husband Shafin live in Lakeview.

Lilah El-Fakih, Lead — found CCSC by googling chorus in New Orleans. "It wasn't long before I realized CCSC has everything I was looking for in a chorus. It has beautiful songs and harmony. It teaches singing techniques and has wonderful lovely camaraderie." commented Lilah. Lilah plays piano, violin and sang in the choir in college and lives Uptown.

Katherine McCaslin, Bari — her music life includes an early start at the piano. In high school she joined a coed chorus and later she sang in two elite choruses. She also sang in a faculty chorus for three years when she began teaching. Katherine moved to New Orleans from Massachusetts in 2010 and joined CCSC in 2015 through her coworker (and current tenor!) Anne Cafiero. Katherine and her husband live in the Irish Channel with their two dogs, Brewster and Petey. She is beginning her seventh year teaching preschool at a private school in Lakeview.

Beth Sacco, Bass — joined CCSC in the Spring of 2013 after being recruited by Debbie Mora. From the moment she walked into rehearsal, she knew she had to become a part of the chorus. Beth hadn't had piano lessons or performed in recitals since high school. But her love of music had never left her and CCSC once again gave her an outlet to perform. "I am happy to have found Crescent City Sound at the perfect time in my life – performing with this wonderful group of ladies brings me such joy and happiness." Beth lives in Metairie with her husband, Teddy, and has 2 daughters and a son.

Area of operation:
New Orleans, LA
State:
LA
---
Volunteer Quartet
Area of operation:
New Orleans, LA
State:
LA
---