Description: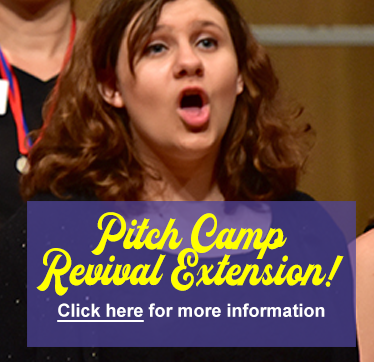 The Young Women in Harmony team is at it again! The Pitch Camp Extension will run for 5 Monday nights from 5:30 - 6:30 pm at Delgado: August 27, September 10 and 24, October 8 and 22. This program is open to all woman ages 12 - 26.

Come to join us to sing and learn additional choreography to the songs presented at the Summer Pitch Camp!
Time: 5:30 pm - 7:30 pm
We will provide instruction for the first hour, and then you will join the chorus for warm-ups and sing for the next hour.

Feel free to bring a friend with you (ages 12 to 26). We would need a parent to stay with girls under age 18 for the rehearsal.

Dates:

August 27th
September 10th
September 24th
October 8th
October 22th

Participants are invited to sing two songs (Let Tonight Be The Night and One Fine Day) at our upcoming shows in November. The shows will be at the Nims Theater on St. Charles Avenue on Saturday, November 10, 2018 at 6:00 pm and Sunday, November 11, 2018, at 2:00 pm. There is also a mandatory dress rehearsal on Friday, November 9 at 7:00 pm, also at the theater.

Pitch Campers would need to attend a minimum of three rehearsals plus the dress rehearsal to be able to perform with us on stage.

For questions, please contact pitchcamp@ccschorus.org or call (504) 258-1942.